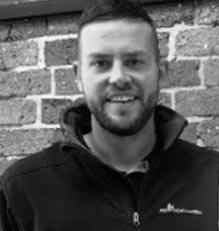 Chris Conduit
Company Director . Experience: 15+ Years.
Chris has over 15 years' experience within the industry including 7+ years experiences in the United Kingdom. Chris joined forces with his father in 2017 to lead and drive the business forward. Chris is dedicated to ensuring that the company operates at the highest possible standard while ensuring compliance with legislation requirements and current industry standards. Chris has an extensive background in project managing and project estimating, with large commercial projects being his area of expertise.
Chris has a proven ability to liaise with clients and stakeholders in order to develop exceptional and quality projects. Through hard work, devotion and working alongside his father, Chris has enabled many opportunities for the company to continuously grow.
Qualifications
Cert IV Building and Construction
Certificate IV Painting and Decorating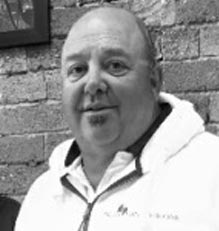 Darren Conduit
Company Director . Experience: 40+ Years.
Darren has over 40 years' experience in both residential and commercial painting. Darren entered the industry in 1980, working alongside his father, Barry, completing residential homes across Ballarat. The two were accompanied by Darren's mother, Maureen, who managed all the administration. Darren joined business with his father in 1995 and eventually took over in 2009 when Father, Barry, retired. Since, Darren has worked on large projects including aged care facilities, car dealerships and large schools, where he has developed an aesthetic sensibility and advanced attention to detail.
Darren continues to contribute to the success of the company by maintaining his integrity, professionalism, innovation and workmanship. Together with Chris, Darren's value for quality and good old hard work has enabled the continuous success and growth of the company.
Qualifications
Cert IV Building and Construction
Certificate IV Painting and Decorating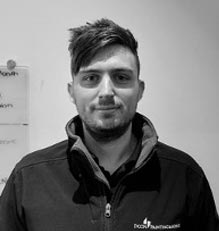 Lloyd Smaila
Estimator/Project Coordinator. Experience: 7+ Years.
As the Project Coordinator and Senior Estimator, Lloyd successfully manages various tasks and key responsibilities. Lloyd currently completes all painting and decorating contract works in Geelong, Ballarat, Melbourne and Regional Victoria. Lloyd estimates various projects ranging from $250,000 to $100,000,000 as well as coordinating the project to the onsite personnel after the tender stage has been completed.
With over 7+ years' experience within the construction industry, Lloyd has established many skills and attributes that allows him to manage the diverse tasks that he encounters on a daily basis. Lloyd has gained on-site experience in different sectors within the construction industry such as apartment buildings, aged care facilities, residential and industrial buildings. Lloyd has also mentored and completed BQs, site inspections, sub-contractor liaising, and priced refurbishment works. Lloyd has proven his dedication to the company by displaying extremely high work ethic and always continuing to excel.
Qualifications
Final Year of a Bachelor of Engineering (Electrical and Electronic Engineering) (Honours)
Cert III in Civil Construction
Cert IV Building and Construction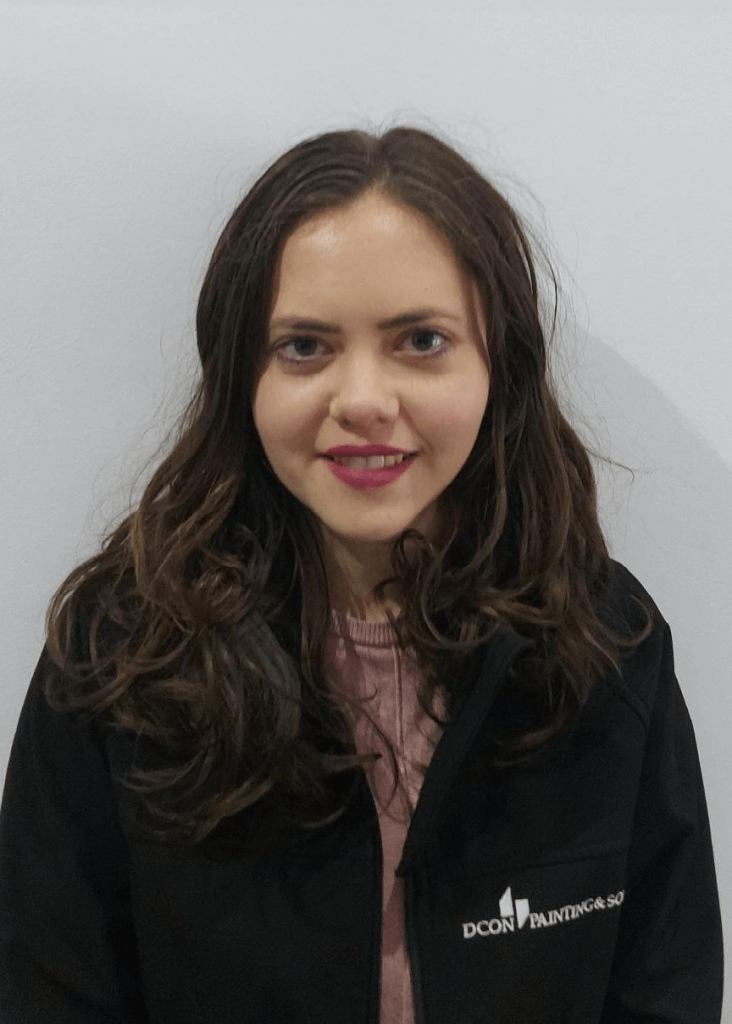 Sophie Fischer
Administration and Accounts
As the accounts and administration assistant at DCON Paintings & Sons, Sophie supports our team by maintaining accurate financial records in our accounting system and ensuring customers and invoices are always paid on time.
Sophie processes all the Accounts Receivable, Accounts Payable, Payroll processing and the companies project costing report. Managing administration duties, Sophie is responsible for general office management, maintaining social media accounts, inducting new staff and the compliance of existing staff.
Qualifications
Second Year of a PhD in Business
Masters in International Business
Bachelor in Accounting and Controlling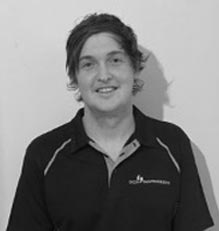 Liam Cox
Project Manager. Experience: 10+ Years.
Liam commenced his career with DCON Paintings & Sons over ten years ago as an apprentice. Liam has developed numerous skills and qualities that have allowed him to continuously excel into his senior position as the project manager.
As the project manager, Liam manages various tasks and responsibilities to ensure that every project is progressing effectively. Reporting directly to the company directors, Liam controls and monitors various projects carefully to bring each project to successful fruition.
Through his extensive time within the company, Liam has gained a deep and technical understanding of paints and paint products which he uses to enable the highest quality finish. Various tasks that Liam controls as the project manager include; managing the project handover, the allocation of labour, organizing the projects tasks, controlling quality and reporting the progress to the directors.
Liam's commitment extends by ensuring that all operations of the business do not place any of his co-workers at risk of injury or illness. Liam always maintains a safe workplace and always enforces safe systems of work.
Qualifications
Cert IV Painting and Decorating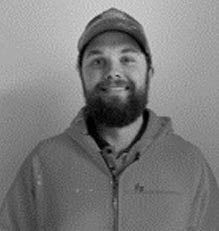 Corey Shannon
2IC - Project Manager. Experience: 13+ Years.​
Corey commenced his career with DCON Paintings & Sons in 2017 and has continued to display qualities of leadership and has rightfully earned his role as the 2IC Project Manager.
Corey works closely with the Project Manager and Project Coordinator to ensure that all projects meet completion dates. Alongside the Project Manager, Corey will manage all aspects of individual projects while monitoring painting techniques, adhering to specifications and ensuring general safety.
Corey holds extensive knowledge about products and particular techniques which he utilises on every project he manages. Corey always maintains a safe working environment by regularly reviewing risks and implementing appropriate preventative and protective measures.
Qualifications
Certificate IV Painting and Decorating